LETTERS TO MALCOLM | By C. S. Lewis
Letters to Malcolm (LM)
Settings Master Page
Letters to Malcolm: Chiefly on Prayer is a collection of essays written in the form of warm, relaxed letters to a close friend, and published posthumously in 1964. Therein Lewis meditates on many puzzling questions concerning the intimate dialogue between man and God. Lewis also considers practical and metaphysical aspects of private prayer, petitionary prayer, the Lord's Prayer, and other forms of prayer. Five settings of the work currently exist, and one pre-publication selection of chapter 15-17 entitled Beyond the Bright Blur.
Click images to view details...
BEYOND THE BRIGHT BLUR
A pre-production Christmas gift containing chapters 15-17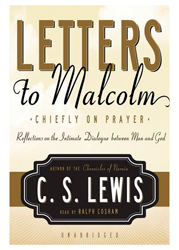 Blackstone Audio audiobook, 2010
Ralph Cosham, nar.